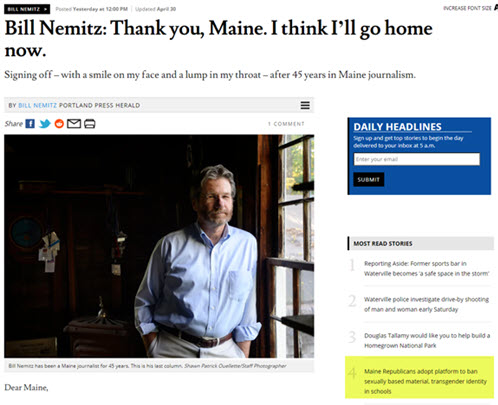 Maine Republicans adopt platform to ban sexually based material, transgender identity in schools.
Thank You Bill Nemesis
Bill Nemitz announced his retirement from Maine journalism today.  I did a screen grab of the top of the webpage version of the article.  I highlighted a headline that appeared next to his crafted image regarding this weekend's Republican Convention.  I enlarged it below the screen grab.
You can click on the image to read his farewell column.  Or type this link into your internet browser https://www.centralmaine.com/2022/04/30/thank-you-maine-i-think-ill-go-home-now/
Bill and I battled in public for over two decades.  He called me "St. Michael the Dark Angel," among other things.  He was always imaginative, and obviously kind to compare me to God's angel of war.  A comparison outside my nature to achieve.  I'm far from angelic.
But I did make political and religious war — and I continue to do so — on some of Bill's pet dogmas.
The dictionary describes a nemesis as, "the inescapable agent of someone's or something's downfall."  Bill and the powerful agent for whom he worked (the mainstream media) did prove to be the inescapable agent of my downfall.  Their manipulative and dishonest collaboration with Big Gay over two decades permanently ended my political career back in 2009.
God is helping me to understand that this is no big deal.  Careers are overrated, or at least they should be.  Bill leaned hard into his.  I would not want to be him on Judgment Day.
According to the column Bill is looking forward to his retirement.  He's going to fix up a barn and spend time with his grandchildren.  I'm happy for him.
I'm going to continue to prepare for the next visit from the FBI as Bill's Father God hating ideology continues to muscle up inside Western institutions.  I can't afford lawyers so I'm thinking I might be retiring to a prison cell one of these days.  No barn renovations for Christians in Bill's new world order.  No sir.  We're not going to own property.  And Bill's people assure us that we'll be happy about it.
Bill and I took a walk one day years ago.  In the months leading up to my resignation from the Christian Civic League of Maine I used to walk and pray at noon on the Rail Trail next to the Kennebec River in Augusta.  Bill found out about it and asked to walk with me one day.
Bill is Catholic.  I gave him a book he hadn't read entitled "The Everlasting Man" by the early twentieth century Catholic journalist G.K. Chesterton.
The always quotable Christian writer observed in that book, "A dead thing can go with the stream, but only a living thing can go against it."
Chesterton also wrote, "Pessimism is not in being tired of evil but in being tired of good. Despair does not lie in being weary of suffering, but in being weary of joy. It is when for some reason or other the good things in a society no longer work that the society begins to decline; when its food does not feed, when its cures do not cure, when its blessings refuse to bless. We might almost say that in a society without such good things we should hardly have any test by which to register a decline; that is why some of the static commercial oligarchies like Carthage have rather an air in history of standing and staring like mummies, so dried up and swathed and embalmed that no man knows when they are new or old."
Powerful political forces in Maine still contend over sexual morality as evidenced in the headline above about the Republican Convention.  Bill worked overtime during his forty five year career to secure for eternity baby murder and sodomy for all the citizens of Maine.  He did so on behalf of an arguably good institution — journalism.  Chesterton again, 'It is when for some reason or other the good things in a society no longer work that the society begins to decline …"
Maine still spins lazily in the contrail of Christianity, notwithstanding Bill's nearly half century long propagandizing on behalf of government conspiracy theories.
In closing I offer one last thought from "The Everlasting Man," "Christendom has had a series of revolutions and in each one of them Christianity has died. Christianity has died many times and risen again; for it had a God who knew the way out of the grave."
Amen.