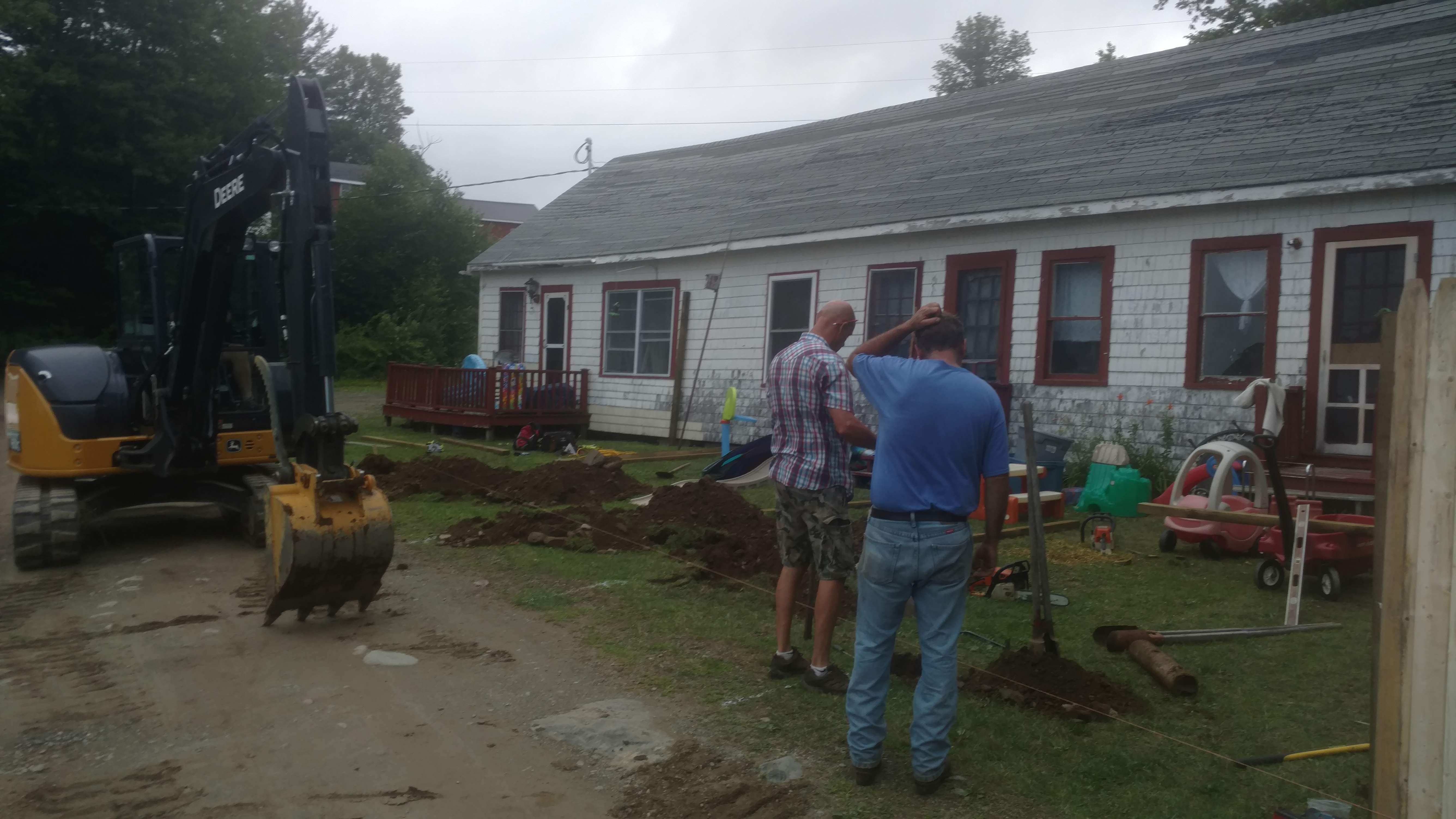 My insurance man invited me to help him yesterday.  When I found out he was doing physical labor I decided to help.  I drove one hour to join five other old men.  They gathered together to build a fence.  The fence was erected to keep toddlers from wandering across the dirt road to the waterfront that is nearby.
The Holy Spirit told me to go when I was invited.  When I decided to heed the Holy Spirit's nudge I didn't know why I was going.
The obvious benefit was hard work.  I enjoyed using the iron bar and post hole digger more than I would have enjoyed speeding along behind the high powered boat tied to the wharf nearby.  There's something about dirt and rocks.  There were lots of rocks embedded in the dirt.  This made me grateful for the boy toy excavator that showed up to help us with the task.
The only way to open the holes without the excavator was to get down on your hands and knees with a crowbar and screwdriver.  It was good.  Very good.
The Bible records this about Noah, "And he called his name Noah, saying, This same shall comfort us concerning our work and toil of our hands, because of the ground which the Lord hath cursed."
Work is from God.  Welfare is from Satan.  Work is not easy.  Work is divine.  There is no substitute for manly work.  Work is hard.  Work is a curse.  Thank you Jesus.
Being with those men in the dirt was spiritual.  It wasn't spiritual because we were putting up a fence at a Christian camp.  We were doing that.  It was spiritual because it was hard, involved dirt and it took a group of men cooperating to get it done.
While this work is good fighting for righteousness in a manly way is better.  It takes men to establish justice in the earth.
Paul the Apostle writes in his letter to the Philippians, "Be careful for nothing; but in every thing by prayer and supplication with thanksgiving let your requests be made known unto God."  I love that phrase "Be careful for nothing."  Don't be overly cautious.  Be bold.  Dare … in prayer.  But prayer isn't any good without actions.
James wrote, "But be ye doers of the word, and not hearers only, deceiving your own selves."
Men in Christ build fences to protect innocence, life and purity.  It is called law and politics.
Child murder and the rape of innocence by the "gay" cause will stop when the Men of Christ decide to stop it.  Not before.
Shame on the pastors for forcing Christianity behind the walls of the stained glass fortresses we call churches.  Shame on us for not standing up for Jesus in our workplaces.  Shame on our politicians for not simply ending the nonsense.
God will not be mocked.
Let's get busy building fences for Jesus.