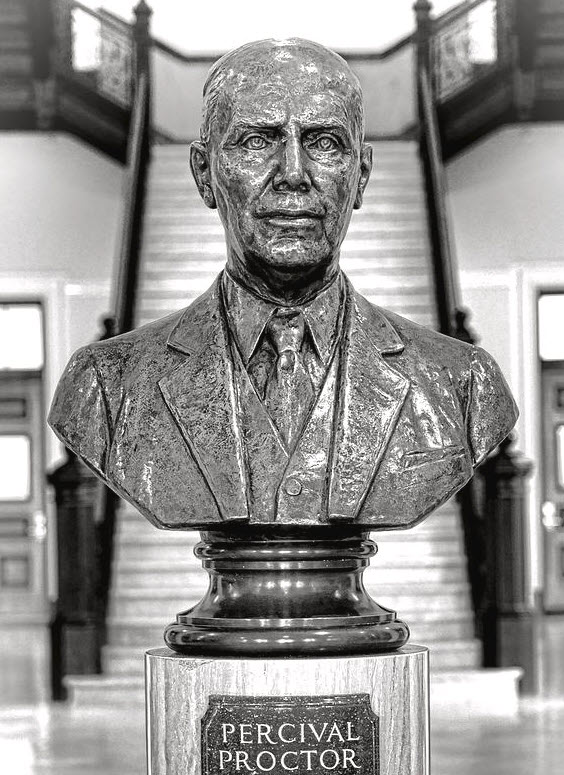 God's law is the perfect remedy. The Ten Commandments are ordinances of right reason, promulgated by the eternally competent Authority, serving the common good. God's laws are inescapable and enforceable from eternity.
Mortal Sin
Governor Percival Baxter spoke from the grave to me this morning.  He told me that he won't mind being moved.
His bust appears in the "holy place" of Maine's State Capitol.  It is in the center of the Hall of Flags.
For years I've wanted to see the Ten Commandments of God placed there.  This morning Baxter told me he wouldn't mind being moved to a different spot in the Capitol complex.
The issue that changed his mind about holding on to this place of honor is treason against not just Maine or America but humanity itself.  From his observation post in the beyond Baxter sees clearly the deep biblical evil of our times.  He knows that the covid cult is real.
He told me that the only path forward for the West is religious.
I don't know if Percival Baxter was religious when he was alive.  Now that he's dead he has no choice but to be religious.  Eternity is real for the human soul.
The Ten Commandments are practical.  They have worked for Western Civilization for thousands of years.  They are being replaced with what?
LGBTQism?!
I was reminded this morning of the beauty of religion by a thoughtful column in an email I receive each day called "The Catholic Thing."  I don't think you need to be Catholic to appreciate the ideas expressed here.
Click here to read the article.
If Maine wants to survive it will respectfully, and with great fanfare, move the artful Percival Baxter bust to another place.  And the people will celebrate the exaltation of God's commandments in this profound place of honor.